Club Highlight: South Carolina Surf
Surf Nation is comprised of like-minded coaches and administrators dedicated to our Surf mission to provide the best experiences and opportunities for their athletes. Since 2020, South Carolina Surf has been a proud partner of Surf Nation, and we have thoroughly enjoyed the partnership, watching their amazing club grow and seeing them take full advantage of being under the Surf brand.
We sat down with South Carolina Soccer Club's Director of Coaching & Player Development, Tam McGowan, to learn more about how Surf has helped his club, players, coaches, and administrators and their upcoming season goals:
What is the biggest value to South Carolina Surf being part of the Surf Nation community?
The Surf community has an amazing support network. The leadership support and staff support for our club have been great, allowing us to give a better experience for our players and membership. Allowing our players to experience Surf Select and give our players the experience of playing with other players around the country.
As you have started the 23/24 Season. What are some of the KPI's and goals you have set for the Club?
One of our club's biggest goals is to continue enhancing our training environment. Expectation and overall experience for our players is the foundation we look to build upon to allow our players to continue developing.
How are you focusing on Coach development and assessing buy-in from your staff?
The buy-in has been great from a coaching perspective.  Having directors in certain age groups allows us to help coaches improve the overall environment and help give coaches the tools to be successful.  We are continuing to encourage our coaches to gain higher licensing through US Soccer which will only further develop each staff member at the club.
Looking back on the 22/23 season, please share any highlights from a Team, Player, or Coach perspective.
We had a pretty successful 22/23 season for our older age groups.  Three boys teams ( 2009, 2007, 2006) went on to the ECNL Playoffs, with our 2007 boys making it to the last 16.  Our 2009 Girls Academy team made it to the Elite 8 of Girls Academy in St Louis.
Provide a quick snapshot of the Club's overall Player development pathway.
We have restructured the club, which we believe will help put more focus on the development of each individual player within the club.Pre Academy (U6-U9)
Academy (U10-U14)
Competition Phase (U15-U19)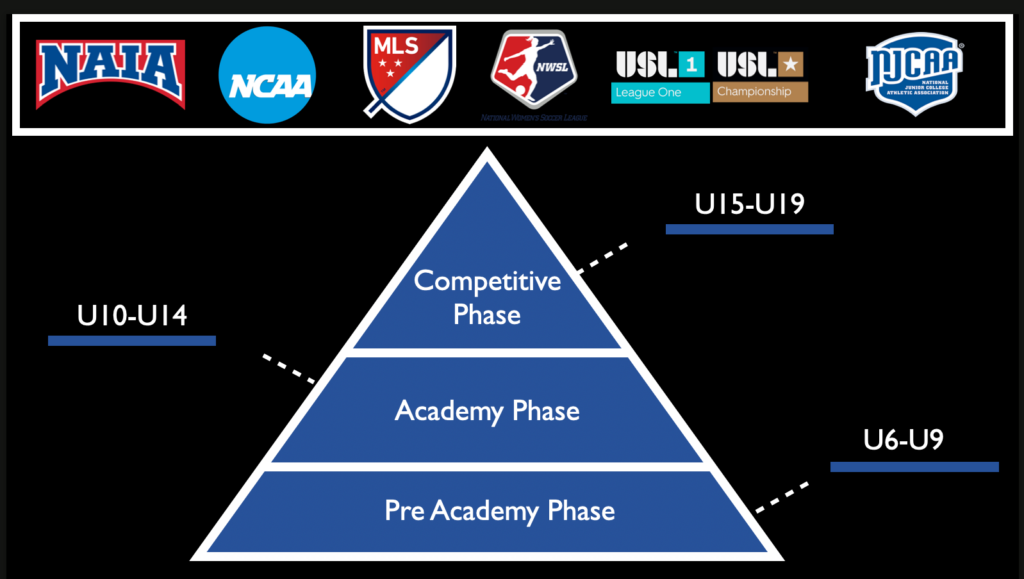 Learn more about South Carolina Surf at https://southcarolinasurfsoccer.com/